Based on an article that first appeared at
On September 11, 2001, all eyes focused on New York City, the Pentagon in Arlington, Virginia, and Western Pennsylvania, as terrorists launched a devastating attack on the United States of America. We all remember the events of that fateful day, a day that will forever remain etched in our hearts as a profound tragedy. However, even in the darkest hours of our nation's history, acts of greatness emerged, casting rays of light and giving rise to remarkable stories of unsung heroes.
According to the 9/11 Memorial & Museum and the American Kennel Club (AKC), approximately 300 dogs played a crucial role in the search and rescue (SAR) efforts in the minutes, days, and weeks that followed. These brave canines tirelessly combed through the rubble and debris of what was once the World Trade Center (WTC). On this 22nd anniversary, we take a moment to reflect on these heroes who made a difference during those harrowing times.
Among them was our own patient, Tomi, a truly remarkable four-legged hero who served on the front lines as part of the 9/11 Search and Recovery K-9 unit. Tomi's unwavering dedication and courage brought comfort and love to those who worked alongside him. His pawprints left an indelible mark on our hearts, and his legacy continues to inspire us to this day.
Today, as we remember and reflect, we turn our attention to four special canine heroes who emerged from the shadows of that tragic day.
Apollo & Officer Davis
Apollo and his handler Officer Peter Davis were on the scene 15 minutes after the South Tower collapsed. This makes Apollo the first K-9 to help assist in finding survivors. He and Officer Davis were soon working 18-hour shifts a day, for weeks on end. Apollo almost died while performing SAR by falling debris and fire. Luckily, he had fallen into a pool of water just prior to arriving on the scene. Apollo received the AKC's Award for Canine Excellence in 2001 for his heroic efforts.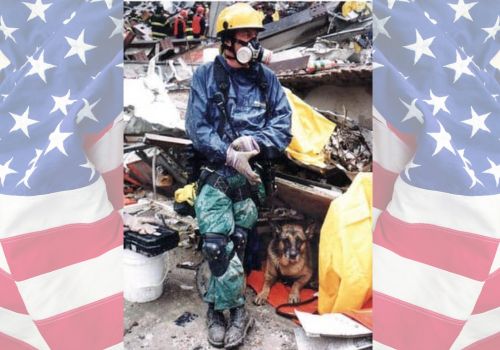 Roselle & Salty
Michael Hingson and his guide dog Roselle worked on the 78th floor of the WTC. The hijacked plane crashed just 18 floors above them. Roselle sprung into action and started assisting Hingson down the emergency stairwell. Just seven floors below them were Omar Rivera and his guide dog Salty. Salty did the same as Roselle, leading Omar to the emergency stairwell in hopes of reaching the ground floor safely. Rivera tried letting Salty go, to 'save himself' but stayed right by his side the entire time. Roselle and Salty were the only two service dogs in the WTC and both of them lead their owners to safety. Roselle and Hingson were on Larry King to talk about their experiences that day. In addition, Roselle received the AKC's Award for Canine Excellence in the Service Dog Category. Rivera and his story were shared on the 16th Anniversary of 9/11 in the National Geographic Documentary, "Where Were You?"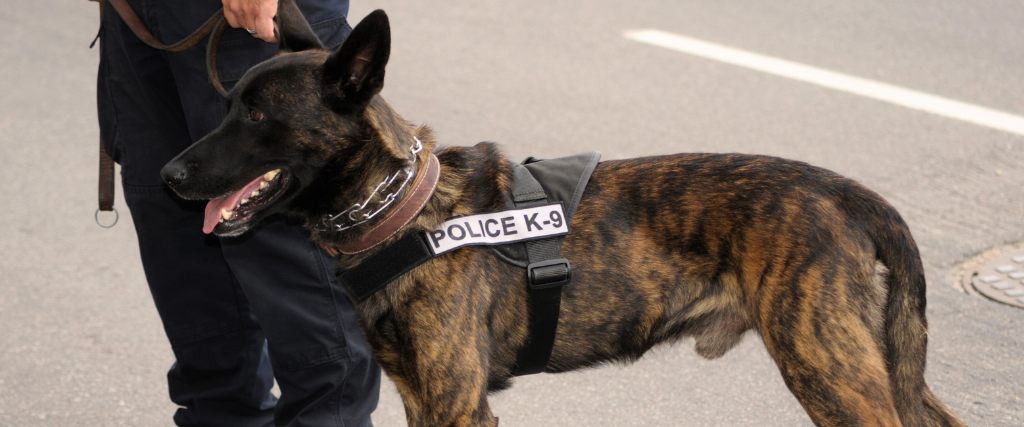 Trakr And Handler Canadian Police Officer James Symington
Trakr and Officer Symington traveled 15 hours from Canada to help assist in any way they could. They arrived on the scene on September 12th and at the 27th hour after the collapse of the WTC, Trakr found the last survivor in the pile of rubble and debris. That person is, Genelle Guzman. Her story is featured in an Animal Planet Documentary titled, "Hero Dogs of 9/11". Just two days of SAR, Trakr collapsed due to the harsh environment he was in. He had smoke inhalation, and burns, was exposed to chemicals, and was exhausted. He was ultimately treated for his injuries and then released to return home. Trakr passed away in April of 2009 at 14 years old. Just two months after his death, Symington received five puppies who are clones of Trakr.
In Rememberance
The valor displayed by these four extraordinary canines (and so many others) on September 11, 2001, serves as a poignant reminder of the indomitable spirit of courage and selflessness that emerged in the face of unimaginable tragedy. Their actions not only saved lives but also provided comfort and hope to rescue workers and survivors alike. The stories of these heroic dogs serve as testaments to the unbreakable bond between humans and their animal companions, a bond that has the power to uplift even in the darkest hours.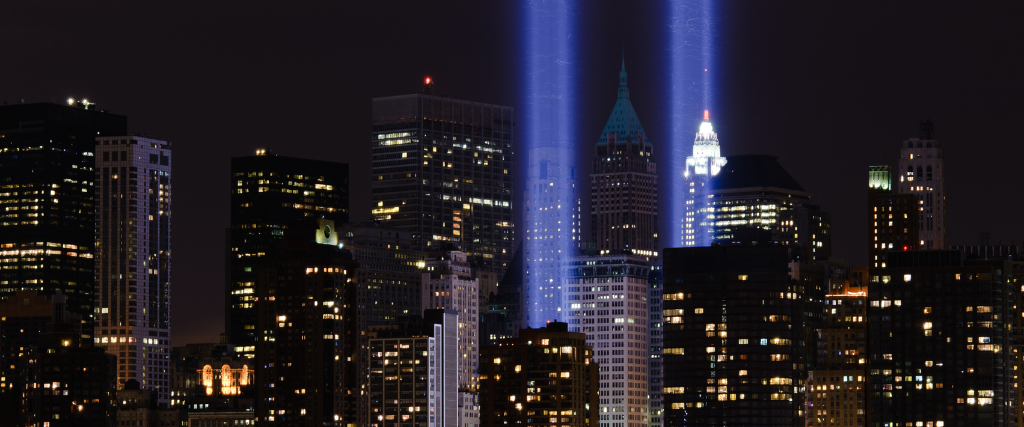 As we reflect on the events of that fateful day, it's essential to honor not only the human heroes but also the four-legged heroes who stood beside them. The sacrifices made by these dogs, and their human counterparts, are a solemn part of our history that reminds us of the resilience, unity, and compassion that define us as a nation.
These dogs may have been 'just doing their job,' but their impact reached far beyond their duties. They brought a sliver of hope in a time of overwhelming despair and demonstrated that heroes come in all shapes, sizes, and species.
This blog was first seen on Lombard Veterinary Hospital.