At Two Hands Four Paws, guests in our Pet Daycare service stay in a large, well-lit, cage free environment with outdoor access.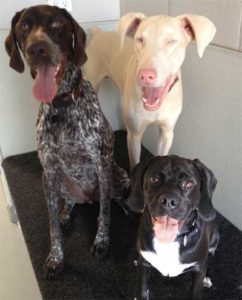 We keep the number of boarders low, no more than 15 dogs at time, so it feels more like an extended family than a crowded bus station.
In addition to our regular Pet Daycare service, we also offer Special Needs Pet Daycare for pets that are recovering from surgery, injured pets, pets who are paralyzed, older pets who need medication, incontinent pets and aggressive pets.
We always have a veterinarian on the premises as well as ample staff to monitor our guests at all times. If your pet is too fragile or aggressive to mingle with the general population, we have private rooms and fenced off outdoor areas so that your dog will be separate and safe without feeling isolated.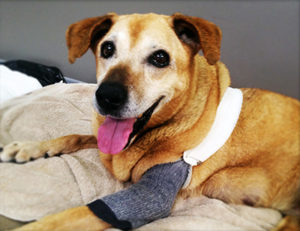 Our hours of Pet Daycare operation are:
Monday through Friday 7 a.m. – 6 p.m
Saturday 8 a.m. – 6 p.m
In addition to our Pet Daycare, and Special Needs Pet Daycare, we also offer overnight boarding as well as pick up and delivery for your pet.
Day Care Requirements
For the safety and security of all our clients, we do have some requirements for our Pet Daycare, and Special Needs Pet Daycare guests.
Guests must pass an evaluation, conducted by one of our veterinarians, to assess day care compatibility, injury, illness, and suitability for our exercise equipment if your pet will also be doing any kind of therapy.
All guests must be vaccinated for rabies, Bordetella (kennel cough), and distemper (DHLPP).We also recommend some type of flea & tick treatment such as Frontline or Advantage.
Clients using either the pool or underwater treadmill must be recently bathed and brushed.
If your pet is a Special Needs Pet Daycare client, and requires specific medication, food or treats, you will need to provide those to us at the time of drop off.
Thank you, and we look forward to meeting your four-legged companion.