Two Hands Four Paws is offering Fun Swims every Wednesday 5 pm - 7 pm and Sunday from 11 am - 2 pm!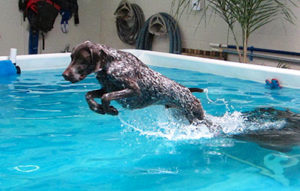 Swimming is a fantastic form of exercise for pets, good for both weight loss and cardiovascular fitness. It's also a wonderful treatment for animal depression, anxiety, and pet behavioral disorders related to anxiety since it raises your pet's serotonin levels. In fact, swimming just once every two weeks will keep your pet's serotonin levels at the puppy level. How's that for motivation?
Swimming is also a great form of group play. Even pets who aren't natural "water pets" can learn to love the water at Two Hands Four Paws. Our Fun Swims are populated with labs, goldens, pointers, French bulldogs, shepherds, whippets, border collies, poodles, terriers and an amazing shepherd/corgi mix. You name a breed of pet, and if it can fetch a toy, you'll probably see it at one of our Sunday Fun Swims.
Geared towards active pets that can catch a ball or toy, and have deep or open water swim experience, Fun Swims take place every Sunday from 10:00 to 2:00 in half hour increments. We also offer one-on-one swim lessons to get your pet loving the water.
Pets are matched by age, ability and temperament and only three are allowed in the pool at a time so call us today at 310-475-8555 to book your Fun Swim session. Trust us, your pet will thank you (once he/she wakes up from the nap of a lifetime).