The Rehab Retail section at Two Hands Four Paws conveniently carries a number of different, high quality products to aid you with your pet's rehab and recovery.
Mobility Aids – Harnesses, Booties, Wheelchairs & Ramps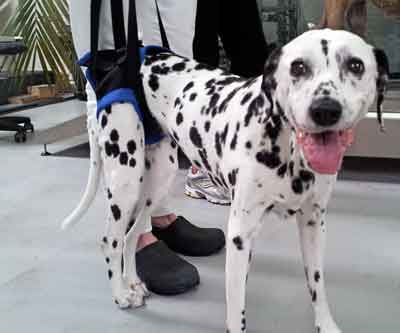 Many of our patients suffer from mobility issues, either as a result of surgery, paralysis, hip issues and/or age. Harnesses, booties, wheelchairs and ramps can be especially helpful for these dogs and their guardians. We are the largest retailer of Walkabout Harnesses in the State of California, including harnesses for both front and rear leg support as well as abdomen stability. The Help'EmUp Pet Harness is great for pets that may need a different type of assistance or need to wear a harness for longer durations, and we carry each size for you to try on and fit correctly. Walkabooties and Grip Trex protect your pet's paws if they're dragging or knuckling, and Pawz rubber booties which are great if your pet is simply in need of some extra traction around the house. If your pet needs a wheelchair then we will work with you to measure and fit carts from the leading suppliers on the market. We also carry a selection of pre-owned carts for rental or purchase. And if your pet needs help getting in and out of the car, we carry a wide variety of new and used ramps. These are especially useful if you drive a car that's high off the ground such as an SUV or if your pet can no longer jump due to either age or injury.
Incontinence Assistance –
Belly bands, Diapers
One of the side effects of paralysis, surgery and old age is incontinence. For pets that are unable to control their bladders, bowels or are constantly leaking, we offer washable diapers and belly bands. Together with absorbent inserts available from any drugstore, they make life around the house mess free, greatly reducing both you and your pet's stress.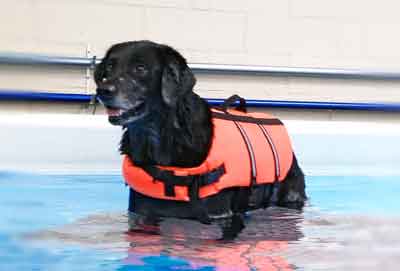 Life Vests & Canine Icers
If your pet is going to be around water, then a properly sized Float Coat is a must. We carry a wide selection of sizes and colors to help keep your pets safe in and out the water. Icepacks are one of the best rehabilitation tools for you to use at home. Our icers are commercial grade, easy to use and leak resistant, and we carry a number of different sizes and shapes, suitable for different target areas on your pet's body.
Supplements – Joint support, Omega 3s,
Geriatric support & Stress Relief
If your pet is recovering from surgery, a high performance athlete or a senior, he or she could definitely benefit from a supplement that provides joint support. We carry a number of options including Dasuquin and Glyco-flex, which both come in tabs and chews. Another one of our best sellers is Wellactin, a high potency fish oil. Full of omega 3 fatty acids, this supplement is an ideal aid for your pet's overall health, skin, and coat. We also carry supplements to help with UT support, behavioral issues, geriatric support and stress relief. All of our rehab retail aids are available in our facility. For more information, please call (310) 475-8555.