"Would Kenny like to come live with us?" a question that just about knocked me right out of my socks. I was sitting on the floor next to Kenny massaging a little poodle with a bad back. Megan, the woman that posed this question was a long-time client who had owned a big beautiful old Labrador mix named Tucker. Tucker was a complete heartbreaker.
He was an extremely big dog with a seriously bad back and he wasn't a candidate for back surgery. For several years he came twice weekly to rehab and we pulled out all the stops, massage, acupuncture, laser, underwater treadmill, pool, Adequan injections, nutraceuticals and tons and tons of land exercises to keep his back strong. As he aged the discs in his back gradually gave out leading to paralysis and continence problems. We fit him for a Walkabout Harness to help Megan walk him though sometimes when she came in she looked to be no bigger than he was, and we knew what a struggle it was becoming for her and her husband. When Tucker lost his sister Sophie unexpectedly to an aggressive form of cancer Megan quickly adopted another girl (Labrador-Aussie mix?) to be Tuckers best friend. Coincidentally her name had also been Sophie but because the sudden loss of Sophie #1 had been so painful, Megan changed her name to Winnie. Winnie was a very funny girl, shy, very weird according to Megan, and utterly, madly in love with Tucker.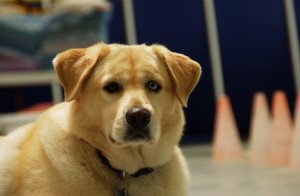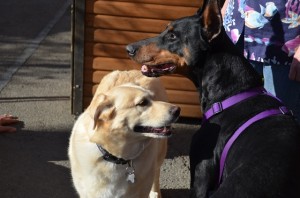 Winnie accompanied Tucker to every one of his rehab appointments and watched him like a hawk, making sure we were doing everything correctly to help her big brother. She absolutely adored him. They quickly became inseparable. As Megan and her husband travelled internationally a lot, Winnie and Tucker came to stay at our house for long periods of intensive therapy and spa time. Winnie was delightful and silly, spending all her time playing with our multiple dog household, including Kenny. He thought she was pretty neat too. At the time Winnie didn't have much dog experience so socializing her with our pack and all the dogs at the rehab center was a joy. She made friends easily and wiggled her way into everyone's hearts. Then the day came that I got the email that I hate the most. The subject line was Tucker.
I didn't even want to open it because I knew what it was going to say. Tucker had gone into a massive decline almost overnight and the decision was made to let him go. He had fought the good fight for so long but his body finally gave out. I was so incredibly sad. Tucker was family. We'd worked so hard to keep him going, to keep his spirits up and to help him walk when his back finally gave out. It was just heartbreaking. The whole office cried when they heard the news. And then I worried about poor little Winnie. She had worshipped Tucker. My heart ached for her.
So when Megan came by to donate some of Tuckers things and posed that question I was flabbergasted. I hadn't known that she was interested in Kenny! They were a Labrador family! She'd never mentioned anything about Dobies! But her rationale was that Kenny needed a home, Tucker was gone, and Winnie was lonely. Could this be the answer to our prayers? They lived nearby, understood the needs of disabled dogs even though Kenny wasn't anymore and could afford to take care of him. We knew he and Winnie liked each other, we wanted Kenny to have a home with another dog to play with and it had to be a female. I was speechless. Plus they travelled ALL THE TIME and we could babysit Ken! O.M.G. We arranged for a play date at our facility for the next day and I ran upstairs to tell Bryan. Holy Cow!
The next morning we were all a bundle of nerves. I told Ken that Winnie was coming over to test drive him as her new brother and that he had to be on his best behavior. I explained that we might have found the perfect home for him where he'd be free to run and play with Winnie to his heart's content. No scary other male dogs, no ex-pens to keep him separated from Kashmir and Monty, nothing but freedom and a new life. Plus they also had a home in the desert so he'd have not one but two homes! I was going through the mental checklist in my head of things to ask such as: "Is the house all carpeted?" (please say yes!) I really didn't want him to go to a home with hardwood floors and bare tile everywhere. And Winnie did have some weird personality issues. She could get snarky on occasion and I couldn't afford for her to get mean or snappy at Ken. That would NOT go over well with him at all. Stomach was a bundle of knots! When Megan and Winnie showed up he quickly raced up to her, gave her a little kiss and the two of them started running around the garden like old friends. Everyone was ecstatic. It was a fit! Ken loved Winnie and Winnie loved Ken. After all these months it looked like we'd finally found Kenny the perfect home. The only problem? Getting Kenny to agree to leave us…